Myopia and hyperopia are 2 of the most common refractive errors that affect our vision. Refractive errors blur your vision, and if you struggle to see at certain distances, you're likely either nearsighted or farsighted.
Knowing the differences between these two conditions is essential to better understand your eye health.
If distant objects appear distorted while close objects are clear, it can signify myopia. However, if you can see distant objects clearly and near objects are blurry, it's a sign of hyperopia.
Visiting your optometrist for an eye exam can help identify the cause of your blurry vision and find a corrective prescription to provide visual clarity.
What Is Myopia?
Myopia, also known as nearsightedness, occurs when the shape of your eye causes light rays to focus in front of the retina rather than directly on it. This results in clear near vision but blurry distance vision.
Symptoms of Myopia
Myopia or nearsightedness occurs when the eyes have trouble seeing distant objects clearly. The most common symptoms of myopia include:
Blurry vision when looking at distant objects
Squinting to see distant objects more clearly
Eyestrain and headaches
Causes of Myopia
Myopia can be caused by various factors, including:
Genetics
Environment
Lifestyle
Studies have shown that children with at least one near-sighted parent are more likely to develop myopia, as this eye condition has a genetic component. Other environmental factors that contribute to myopia include prolonged near-work activities, indoor activities, low levels of outdoor physical activity, and exposure to screen-based devices from a young age.
Myopia Control
If you suspect that you or your child may have myopia, scheduling an eye exam is important. Early detection can prevent complications that arise when myopia is left untreated, such as:
Retinal detachment
Glaucoma
Cataracts
Simple preventive measures that you can take to reduce the risk of your child developing myopia include:
Spending more time outdoors
Limiting screen time
Taking frequent breaks from screens or reading
Eating a healthy diet that includes foods high in vitamins and nutrients
Treatment Options
If you're diagnosed with myopia, your optometrist can correct your vision with prescription eyeglasses or contact lenses.
In children and adolescents, myopia control methods are available to help slow the progression of myopia and preserve your child's eyesight. Some methods include: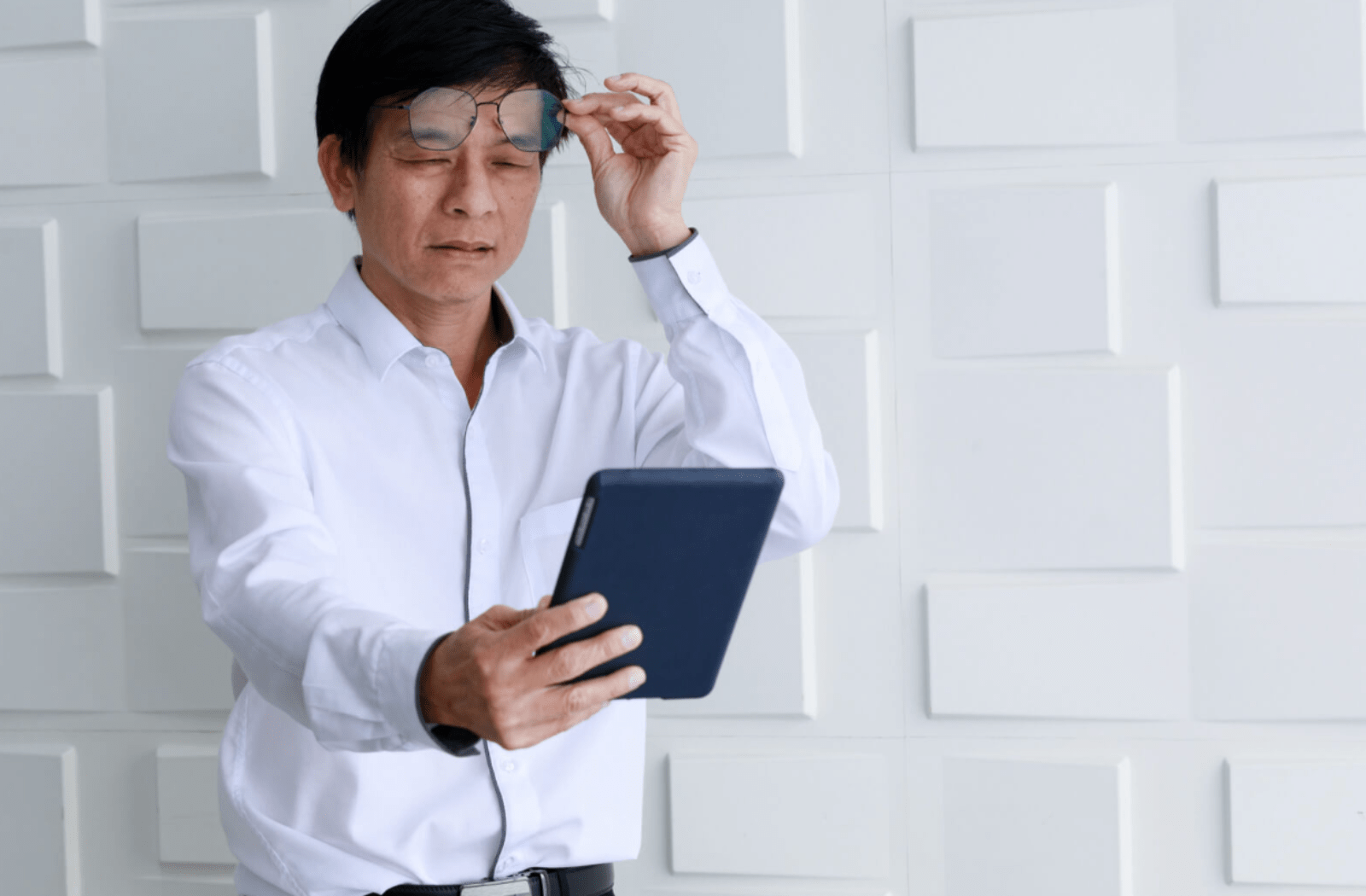 What Is Hyperopia?
Hyperopia, also known as farsightedness, is the opposite of myopia in that light focuses behind the retina rather than directly on it. This results in clear distance vision but blurry near vision.
Symptoms of Hyperopia
People with hyperopia can see distant objects clearly but have difficulty seeing objects up close. The symptoms of hyperopia can vary in severity depending on the degree of hyperopia and can be different for each person.
Some common symptoms of hyperopia include:
Blurred vision while reading or doing close-up work
Squinting
Eye strain, headaches, and fatigue
If you experience any of these symptoms, schedule a comprehensive eye exam with your optometrist. Early detection and correction are critical to maintaining healthy vision.
Causes of Hyperopia
Hyperopia occurs when light is focused behind the retina instead of on the retina, resulting in blurred vision. This condition can be caused by:
An abnormally shaped eyeball
A cornea that is too flat
Genetics
Hyperopia can also be caused by certain health conditions, such as diabetes, which can affect the shape and function of the eye.
Diagnosis & Treatment
During a comprehensive eye exam, your optometrist will perform various tests to determine if you have hyperopia. Some standard tests for hyperopia include:
Visual acuity test
Refraction test
Slit-lamp examination
If you are diagnosed with hyperopia, your optometrist may recommend corrective lenses, such as glasses or contact lenses. In some cases, refractive surgery may be recommended to correct hyperopia.
Correct Your Refractive Error
Whether you have myopia or hyperopia, it is crucial to understand that both conditions are correctable with contact lenses, eyeglasses, or refractive surgery.
If you are experiencing any symptoms of myopia or hyperopia or want to understand your eye health better, schedule an appointment with Dr. Bittel Optometry's eye care team.
With your eye doctor's help, you can see clearly and support healthy eyes.