Every year, millions of people suffer from sunburn. Whether you're lounging by the pool, playing at the beach, or working outside, you know to lather yourself in SPF to protect your skin from the harmful effects of ultraviolet (UV) radiation. But what about your eyes?
Prolonged exposure to UV rays can cause severe damage to your vision. 100% UV-blocking sunglasses are the best defence against the sun's harmful rays. Wearing sunglasses year-round, even on overcast days, can help protect your eyes and prevent sun exposure-related eye conditions from developing in the future.
What Are UV rays?
UV rays are a type of radiation that comes from the sun. There are 3 types of UV rays: UVA, UVB, and UVC.
UVC rays are primarily absorbed by the Earth's atmosphere before they can reach us, but UVA and UVB rays can penetrate the atmosphere and cause damage to our skin and eyes.
The sun's rays can affect:
The cornea: The clear dome on the surface of the eye.
The conjunctiva: The layer of tissue that covers the whites of the eye and inside the eyelid.
The lens: The part of the eye that sits behind the pupil and focuses light.
Photokeratitis
UV rays that are emitted from the sun can penetrate the eye tissue, and prolonged exposure to UV radiation can cause damage to the surface of your eyes, leading to a condition known as photokeratitis.
This is essentially a sunburn of the eye, causing symptoms such as:
Redness
Tearing
Sensitivity to light
Blurry vision
Eyelid twitching
Gritty sensation
Headaches
Seeing halos around light
Fortunately, this condition is usually temporary, but the real danger of UV exposure comes from the long-term effects.
How Do UV Rays Affect Your Eyes?
Exposure to UV rays can cause a variety of eye problems, including:
People who spend time outdoors playing sports such as skiing, snowboarding, surfing, or beach volleyball and activities like fishing or lounging by the lake need shielding eyewear to provide long-term protection against eye conditions.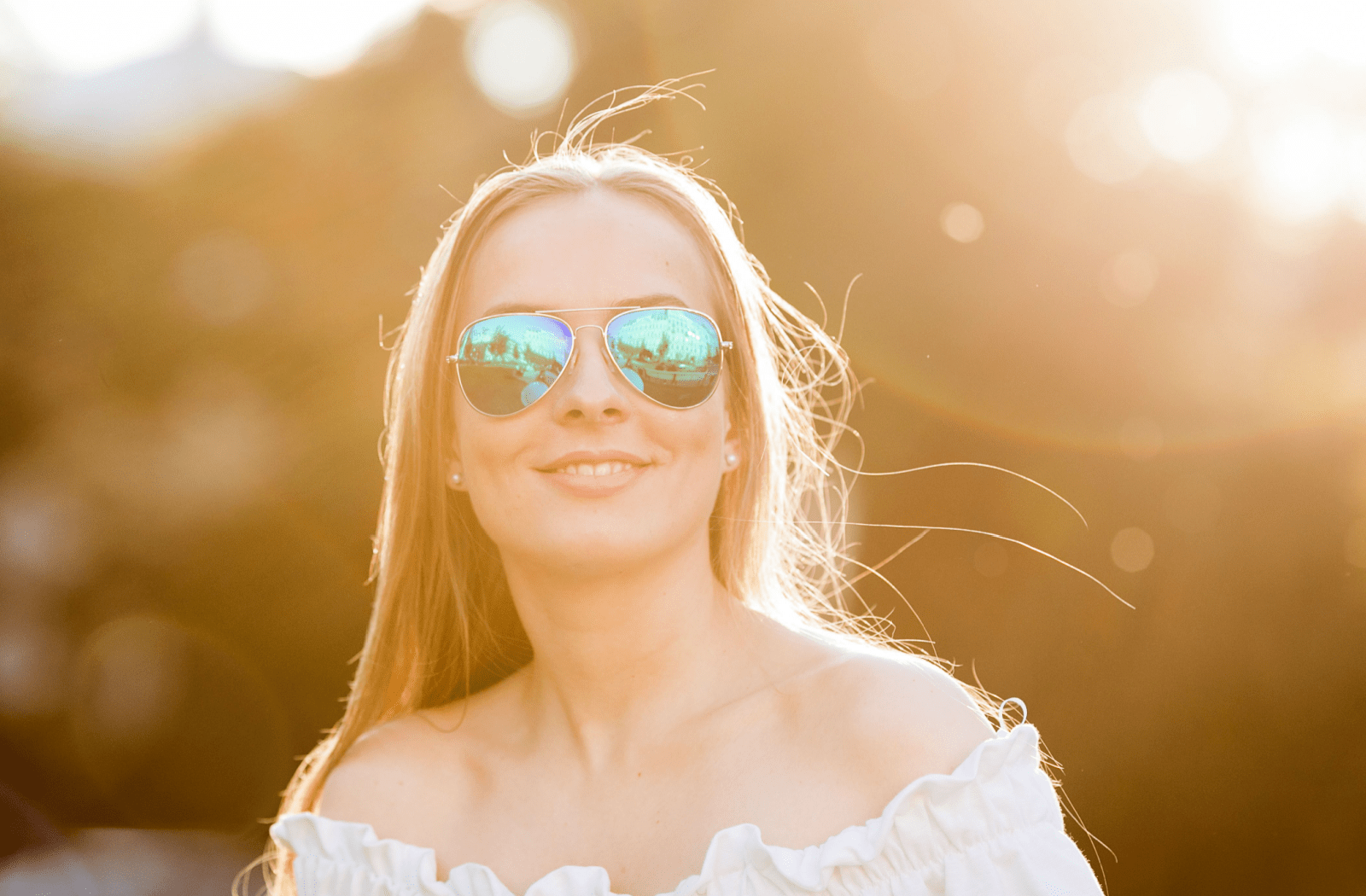 How Can You Protect Your Eyes from UV Rays?
Fortunately, there are several things you can do to protect your eyes from UV rays:
Wear sunglasses: Look for sunglasses that block 99–100% of UVA and UVB rays. Wraparound styles are especially effective because they block rays from entering the eyes from the sides.
Wear a hat: A broad-brimmed hat can help shade your eyes and protect your face and neck from the sun.
Avoid peak hours: UV rays are at their most damaging between 10 am and 4 pm, so try to limit your outdoor activities during those times.
Use UV-absorbent contact lenses: If you wear contact lenses, consider trying a style that blocks UV rays, and double up by wearing sunglasses.
What if You've Already Experienced Sun Damage?
If you think you may have already sustained sun damage to your eyes, it's important to see an optometrist. They can determine the extent of the damage and recommend treatments to prevent further damage. Cataract surgery can often restore vision lost to cataracts, and treatments for macular degeneration are available as well.
Protect Your Eyes from the Sun
The bottom line is that UV exposure can be harmful to your vision. We often take our eyes for granted, but they are incredibly important to our well-being. While it's important to enjoy the great outdoors and soak up some sunshine, it's equally important to take steps to protect yourself from harm.
Wear sunglasses and a hat, and seek shade whenever possible. And if you're experiencing any symptoms of photokeratitis, don't hesitate to see your optometrist right away. By taking these simple steps, you can enjoy the sun while safeguarding one of your most precious senses.
If you suspect you've experienced sun damage, seek help from your optometrist right away—your eyes will thank you.