Contact lenses are an increasingly popular choice for vision correction and comfort. But how long do they last? The length of time a contact lens lasts depends on the type of lenses you get.
In this blog, we provide information on different types of lenses to help you understand which ones work best for your needs. We also give you tips on how to make your contacts last as long as possible!
Understanding the Types of Contact Lenses Available
Contact lenses are popular due to their convenience and inconspicuousness. However, with so many options available, deciding which type of lens best suits your unique needs can be overwhelming.
From daily disposables to extended-wear lenses, each type of contact lens has its own benefits and drawbacks. Understanding the differences and advantages of each kind of lens can help you make an informed decision about which lens will work best for your lifestyle.
Whether you're a contact lens veteran or a newcomer to this world of vision correction, exploring the various options available can be a valuable step in improving your visual health.
The Difference Between Daily & Extended-Wear Lenses
Contact lenses have come a long way. Nowadays, so many options are available, such as daily or extended-wear lenses. While both can correct your vision and offer a certain level of convenience, there are significant differences between the 2.
Daily-wear lenses are designed to be worn for a single day and then thrown away. Extended-wear lenses are designed to be worn continuously, even overnight, for a week or a month before they need to be replaced. However, extended-wear contacts can increase the risk of eye infections and discomfort.
Ultimately, the decision between daily and extended-wear lenses should be made in consultation with an eye care professional, considering individual needs and preferences.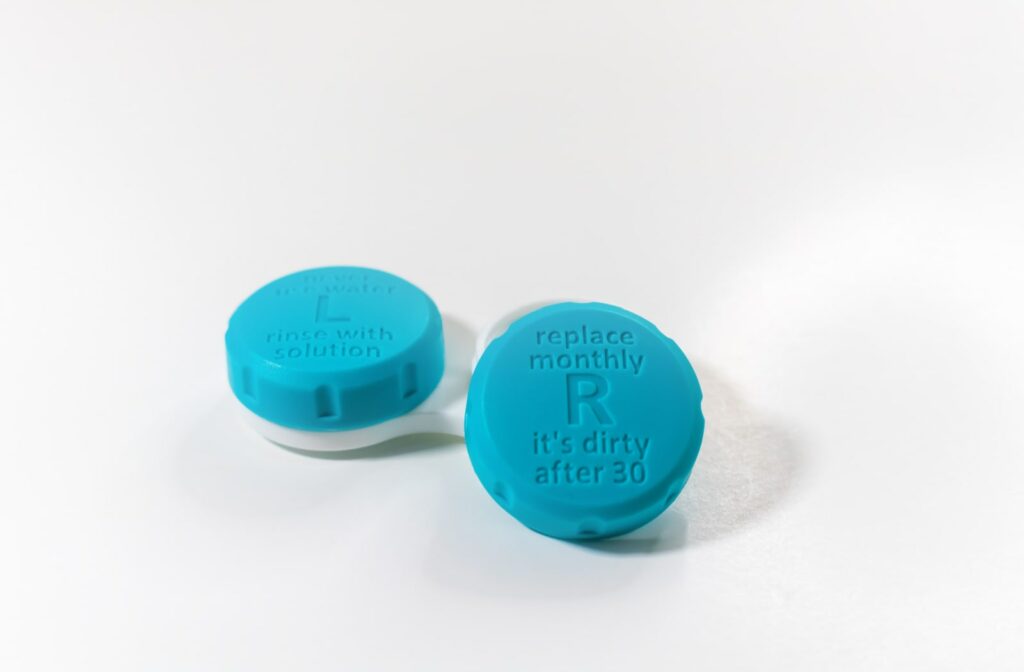 Factors Affecting How Long Contact Lenses Last
The answer isn't as simple as you may think, as there are various factors affecting the lifespan of contact lenses. Firstly, proper cleaning and maintenance can greatly extend the life of your lenses, while neglecting to take care of them can compromise them.
Additionally, the material and design of the lens itself can impact its durability and lifespan. Other variables, such as your tears, environment, and daily habits, can also come into play.
How Often Should You Replace Your Contact Lenses?
Proper contact lens maintenance is essential for good eye health; part of that maintenance involves regularly replacing your lenses based on the manufacturer's instructions. So, how often should you replace them? The answer can vary depending on the type of lenses you wear.
Daily disposable lenses need to be replaced every day
Bi-weekly lenses need to be replaced every two weeks
Monthly lenses need to be replaced once a month
Extended-wear lenses need to be replaced 1–4 weeks
It's important not to wear your lenses beyond the recommended replacement schedule, as bacteria can build up on your lenses and cause infections and other complications. Keeping your lenses clean and storing them properly helps protect your eye health and provides a more comfortable wearing experience.
Tips for Making Your Contacts Last as Long as Possible
Here are some tips for making your contacts last:
Always wash your hands before handling your contacts.
Never use tap water to clean them.
Don't put your contacts in your mouth or spit on them.
Use a saline solution recommended by your eye doctor.
Always store your lenses in the appropriate case, and securely screw the top on so fluid isn't lost.
Don't let hand creams or makeup come into contact with your lenses.
Insert your lenses before applying makeup.
Take out your contacts before removing your makeup.
Keep your lens case clean and dry between uses.
Replace your contact case at least every 1–3 months.
Don't overuse your contacts. Change your lenses as recommended, whether daily, weekly, or as determined by your eye doctor.
Get an eye examination at least once a year.
Replacing your contacts according to the recommended schedule is crucial to prevent infections. Following these simple tips can help keep your eyes healthy and your contacts in good condition for longer.
Tuck Those Glasses Away
Overall, contact lenses provide freedom from glasses and added convenience in everyday life. If you have any hesitation about contact lens wear, feel free to consult your optometrist at Dr. Bittel Optometry, who will be happy to answer all of your questions regarding contact lens types, fittings, and general eye health information.